Hidden Delicacies to Try in Davao City Philippines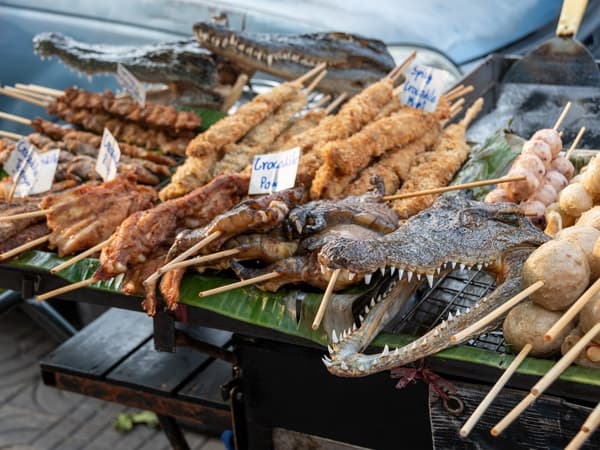 Food, food, and even more food. They say "the way to a man's heart is through his stomach," and that's probably true, at least for Filipinos.
With this love of food comes a whole lot of love in figuring out more and more exotic ways to fill the belly. When dating a Filipina woman from Davao City, exploring the mouth-watering dishes is one of the best ways you can experience the Davaoeño culture.
You can go for days and not taste the same exact dish. In fact, during your stay here, don't eat the same dish more than once. The list is long for the best restaurants in Davao for couples, and I suggest you go through the entire thing:
Crocodile Meat
Filipinos find affinity in anything roasted—from roasted chicken to roasting a whole pig. However, there is a new and upcoming contender to the whole roasting menu: roasted crocodile. Yes, you heard that right—crocodile meat.
Now, before any of you call any conservationist groups, the crocodiles they roast belong to the same species as the giant crocodile recently captured in the Philippines named Lolong. This specific species aren't endangered and might sometimes even be considered as pests as they consume local livestock.
So what's so special about crocodile meat? Well, it's lean and actually quite versatile. Interestingly in some Asian countries, crocodile meat has been quite popular. What makes the Filipino take on crocodile meat different is that the main attraction dish in Davao is definitely the whole roasted crocodile, locally known as lechon buwaya.
Chefs are experimenting on using crocodile meat for other dishes like crocodile burgers, crocodile meatballs, and to appeal to the local population, they're introducing traditional Filipino food made of crocodile meat as well.
Durian, Durian Ice Cream, Durian Everything
Durian, also known as the King of the Fruits, is popular in Davao. The place is known throughout the archipelago as the Durian Capital of the Philippines. The fruit has been portrayed in the media as this thorny and brutal-looking fruit with a somewhat pungent scent. I mean, to be honest, if you've never encountered one before, the smell will take you back quite a bit. Perhaps it's more about preference, but to some tourists, the fruit is actually quite fragrant.
You can try and eat the fruit straight from its shell. It's said to be quite creamy and sweet; the fragrance of the fruit adds to the flavor as well. If you aren't as daring as you would want to be though, or the scent of the fruit just isn't something you can stomach, you can try products made from durian. Locals in Davao have been using it to make durian candies (which are chewy), durian ice cream, and durian yema (which is a sweet custard confectionary but enhanced with the durian flavor).
Davao Cacao
Davao has recently been hailed as the cacao capital of the Philippines. This is due to the place being the largest producer of cacao in the country. The International Cocoa Awards has recently awarded a cacao farmer in Davao as one of the best in the world, making Davao Cacao one of the world's highest-quality cocoa products.
The International Cocoa Awards showcases great cocoa producers according to their region of origin. The ICA is the international organization that recognizes the works of cocoa producers. They select 50 extries globally and award the top 20 cocoa products.
When we speak of Davao and chocolates, Malagos Chocolate is what usually comes to mind for the Davaoeños. Malagos Chocolate literally put Philippine chocolate on the world map. Their products have consistently been awarded internationally by the International Chocolate Awards and the Academy of Chocolate Awards.
Other chocolate products you can try in Davao are the suman and tsokolate. Suman is a rice cake made with coconut milk and wrapped in banana leaves then steamed. Tsokolate is a chocolate drink made of unsweetened chocolate, usually made from local cacao beans, and is commonly known as sikwate in the Visayas and Mindanao. This pairing is a comfort snack for Filipinos and is usually consumed early in the morning or during cold and rainy days.
Seafood
The Philippines is an archipelago made up of over 7000 islands and is situated right next to the Pacific Ocean. Access to high-quality seafood is something the Philippines prides itself in, and Davao doesn't disappoint. It boasts high-quality tuna products due to its close proximity to General Santos City, the Tuna Capital of the Philippines. They serve fresh tuna in many ways from fresh raw tuna in the form of sashimi or kinilaw (similar to ceviche) to freshly grilled tuna belly.
Other seafood products you can try in Davao are fresh crabs delivered all the way from Cotabato. Davao has various restaurants with unlimited crabs served with different types of sauces, from savory garlic sauces to sour and spicy dips to satisfy every palate. Unlimited crabs and unlimited shrimp restaurants are quite common and are some of the best seafood restaurants in Davao.
Desserts in Davao
If you're looking for a cure for your sweet tooth, Davao can facilitate. It isn't only home to the salty and savory or the sour and exotic food. Davao also has amazing sweet dishes that will rival whatever Willy Wonka can offer.
We have already talked about the famous durian and how Davaoeños are finding ways to introduce guests to the fruit without the full shock of the unique scent. Davao has amazing selections of ice cream, but a must-try for you should be the durian-flavored ice cream. It retains the sweet and creamy texture of the durian fruit without the pungent scent of the fruit.
Sans rival is also something you would want to try. Sans rival, literally meaning "without rival," is a Filipino dessert made of layers of buttercream and meringue. It is a French-inspired dish, but instead of using crushed pistachios, hazelnut, or almonds, the Filipino sans rival uses toasted cashew nuts.
With the average ambient temperatures in the Philippines ranging at 21°C to 31°C, you're gonna want to cool off a bit with some halo-halo, which is basically a mix of ingredients like ice cream, crushed ice, coconut shavings, milk, jackfruit, tapioca, fruit slices, and flan.
Halo-halo is all the happiness in one single dessert. Other regions have their own unique take on the halo-halo based on their famous products. You guessed it, Davao halo-halo may or may not include durian in it. It all depends on you.
There's a ton of places to eat in Davao, and it would be very wrong if you don't make the time to explore. Food is the best way to introduce yourself to a foreign culture. Davao is rich in flavor and vibrant atmosphere that a day of food trip is something you definitely will not forget.
Newest, beautiful, single women now added for week of Wednesday, 22 March, 2023 - Tuesday, 28 March, 2023
You have to meet the women to marry them! What other international dating site offers you numerous opportunities to do that?