The Ligaw Attitude: Traditional vs. Modern courtship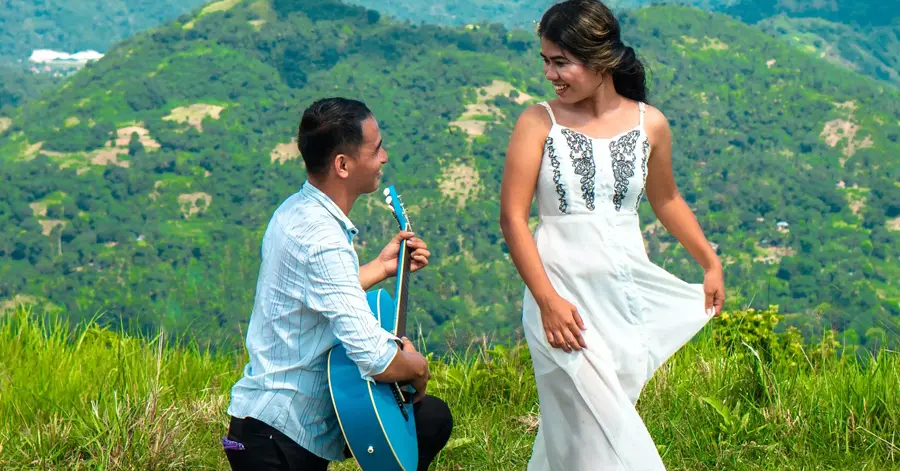 If you're dating Filipino women, you've probably heard the term ligaw a lot. It is the Tagalog word for courtship in the Philippines. In this stage, the potential partners will get to know each other, and the woman will decide whether she wants to date the man or not.
In traditional Filipino dating culture, ligaw is an important stage that every man must go through. You must court a Filipina if you want to hear the word oo or yes, which means you can date and pursue them to be your partner.
The ligaw tradition dates back to pre-colonial times and continues to be practiced by many. However, as the modern era began, innovation and societal changes made the tradition a bit different.
To learn more, here's the difference between traditional and modern courtship in the Philippines.
Harana or Serenade
Traditional:
Harana occurs when you woo a Filipino woman by singing a romantic song that represents your love for her. The manliligaw or suitor will bring a guitar and, sometimes, a group of friends to accompany him in his serenade. The display is usually done at night and in front of the home of the woman.
Modern:
Today, the traditional harana isn't as practiced as before. With the use of technology, the suitor will now record their singing on their phone and send it to their lover. While this is unconventional, many Filipinas admire it, especially when their suitors live thousands of miles away and can't come to their home to serenade them.
Balak or Spoken Poetry
Traditional:
A balak is a Filipino courtship tradition in which the suitor expresses love through elaborate verses. Through this, they will convey the intensity of their feelings with a dash of imagery and symbolism to whisk a Filipina's interest.
Modern:
In this modern time, texting is the new balak. Suitors will send love verses through texts to highlight their romantic feelings to their lovers. Sometimes, if they are feeling extra, they will also send a video of themselves reading their balak.
Paninilbihan or Servitude
Traditional:
Paninilbihan is an old courting custom in which suitors perform manual labor such as household chores while being observed by both their lover and their lover's families. This is to prove their worthiness to be their lover's partners, while also allowing the family to get to know them better.
Modern:
Some argue that paninilbihan is a dying tradition, especially today. However, this is not entirely true because many men continue to practice this tradition just in a more modern manner. For instance, they may visit their lover and bring gifts for everyone in the house. Sometimes, they even cook delicious food and share it with the rest of their lover's family.
Modernity Doesn't Necessarily Destroy Old Traditions
Modernity does affect old traditions, but it doesn't necessarily destroy them like the ligaw attitude. Traditional courtship values, are still present in modern times only that they are practiced differently.
Because the dating landscape has changed, performing old dating traditions may no longer be feasible. In the Philippines, many Filipinas have engaged in online dating, with potential partners often living far away, sometimes even outside the country. So, going to their house, serenading and performing balak isn't exactly the most convenient thing to do.
Nonetheless, whether you court a Filipina traditionally or not, they will appreciate your effort to show your love even if there is no guarantee that they'll pursue you or not.
This story was originally published on Medium: The Ligaw Attitude: Traditional vs. Modern Courtship in the Philippines
Newest, beautiful, single women now added for week of Wednesday, 27 September, 2023 - Tuesday, 3 October, 2023
You have to meet the women to marry them! What other international dating site offers you numerous opportunities to do that?